All You Need to Know for Your Visit to Oundle Vintage Festival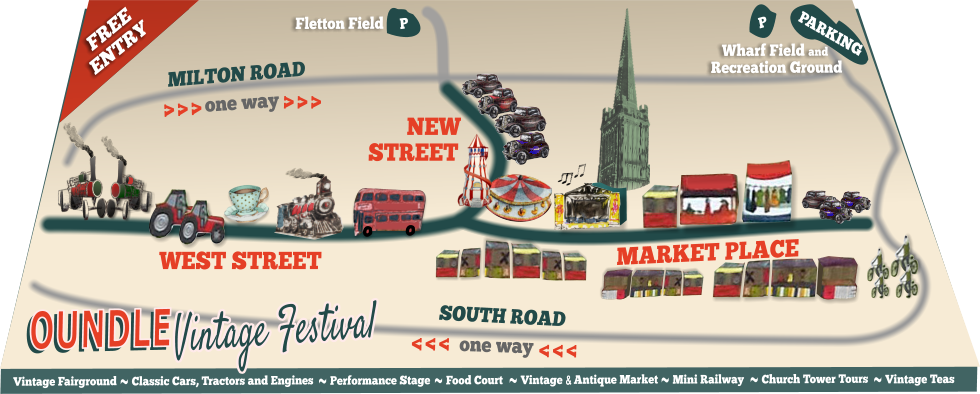 Oundle Vintage Festival opens at 10am and closes at 4pm although the Teddy Bear Parachuting will run 4-5pm.
The schedule for the Performance Stage can be found HERE.
The festival is set within the central streets of Oundle which are to be closed off to traffic for the day. You are advised to park on the streets or regular car town parks (if you arrive early) or use the festival parking areas.
For ease of access to the festival parking areas, it is best to enter Oundle form the A605 roundabout and over the weight restricted North Bridge.
When you have arrived make your way on foot to the town centre and then discover the attractions and entertainments spread out over the central three streets of the town. The event is NOT ticketed and is FREE to enter.
Road Blocks & One Way System
The following roads will close to traffic from 6am to 6pm
New Street
The Market Place
West Street
A One Way System will operate 6am to 6pm on:
If you arrive early you may find a spot on the surrounding streets, you may also try the regular town car parks located at The Co-op, East Road and Benefield Road.
We have around 1,000 spaces (weather permitting) in our special festival car parks. We are using three car parks but opening them one at at time as each fills up. The Festival Car Parks are (in order) as follows:
1: Oundle Wharf Field (behind the Tap & Kitchen) > SAT NAV: PE8 4DE
2: The Recreation Ground on New Road (adjacent to Oundle Wharf) > SAT NAV: PE8 4LE
3: Fletton Field (off Glapthorn Road near the Fire Station) > SAT NAV: PE8 4JA
There will be a limited number Blue Badge parking spaces on West Street. For access, report to the Road Block at the end of West Street (next to the Catholic Church) and show your badge to the Marshal.
All parking is FREE – donations in buckets appreciated
It's more fun if you 'dress to impress'! We look forward to seeing many of you on 18th May dressed in your choice of vintage attire, although it is certainly not compulsory. However you are dressed, we look forward to seeing you at Oundle Vintage Festival.